Mihret and Habtegabr
Mihret and Habtegabr are two pioneer students in our English Language Program for Seniors. They are a very social, warm and inclusive couple in spite of all the hardships they've been through. When they come into class both of them greet every other person by name and often shake hands or hug them.
When the Eritrean couple came to register in our program Mihret, 59, was not able to communicate in English at all, although she was able to say her name and the country that she came from. Habtegabr, 65, was able to answer basic questions related to his personal experience. He was on crutches.
We learned that Habtegabr lost his right leg in a bombing raid in Eritrea by Ethiopian rebels. They then fled from Eritrea to Sudan, lived there for 16 years, and came to Canada as refugees. They now live in subsidized housing with their youngest daughter Selamawit. Their other children are scattered throughout the world – their son and other daughter are in Norway and another daughter is in Switzerland.
Determined to learn
Habtegabr is a very determined student. He asks a lot of questions, tries to express himself by telling stories, and works very hard to read and write. He often asks for help from classmates, and offers his help very gently. When Habtegabr and Maeray, a 71-year-old Burmese, sit beside each other, Habtegabr relies on Maeray if he gets stuck on something. He calls Maeray 'Teacher Maeray' or 'Brother Maeray'.
Mihret has had a more difficult time learning the language.  Habtegabr constantly supports her as a quiet, gentle, encouraging coach. When Mihret first came to class in the Fall of 2017, she had little experience holding a pencil or printing. She practiced drawing circles and different shapes on the whiteboard, and eventually worked on printing her name. By June 2018, she could print on her own. At the student conference, she carefully signed her report with Habtegabr's gentle guidance. She was beaming with joy and cried when it was done. It's not easy for her, but she gives it her best effort every time.
Mihret also helps in the kitchen to get the coffee ready, put out all the supplies and to clean up after coffee break. She is part of a team of about four women who regularly look after preparing the coffee for both classes. She always works with a smile and friendliness to others.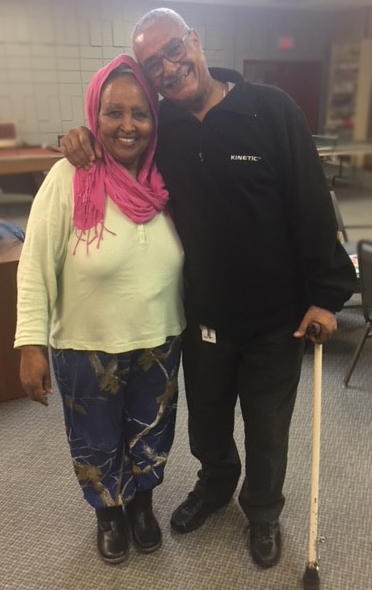 For their teacher Cindy, the most inspiring moment was when Habtegabr arrived one day without his crutches. He'd been talking about walking at the Health Sciences Centre. He would say 'Every day I walk, I go walking – Yes, at HSC!' Cindy wasn't sure at the time what he meant. Then one day he came to class with a cane and a new prosthetic leg. He was so excited! Everyone in class celebrated with him. They cheered, shook his hand, and took lots of photos.
A & O builds community and connection
Cindy has done an incredible job in creating a class culture that brings people from China, Eritrea, Syria, Liberia, Burma and Bhutan together in a welcoming, cohesive and supportive group. When she attended the Western Canada Language Training Learning Event in Edmonton in February 2018 she met a teacher from Lethbridge who was looking for pen pals for her seniors class.
A few months after exchanging information Cindy received a package from Lethbridge containing photos and letters from the seniors class. They even included Jets flags to cheer on the Winnipeg team for the playoffs. Cindy's class worked on their letters, signed post cards from Winnipeg and sent their replies in June. It was a great experience for everyone and they plan to keep in touch in the future.
As we do for all our students, the staff at A&O support Habtegabr and Mihret in any way we can. Our settlement worker assists them with booking Handi Transit for their trip to and from school. We also issue reference letters to confirm their enrollment in our program so they can get extra transportation allowance from Employment and Income Assistance.
There are many Mihrets and Habtegabrs in our program... they are grateful for the opportunity to learn English and spend time with their peers. They come together with a real sense of community and most of them rarely miss a class. They help each other, laugh together and have a strong bond. All members of the group are accepted and everyone's achievements are celebrated.
When we visited them last year at their new apartment, subsidized by Manitoba Housing, they were so happy and proud to show us around. When we think about Mihret and Habtegabr, we think about a couple who have been through some extremely challenging situations in their life, but are so appreciative for everything Canada has to offer them.