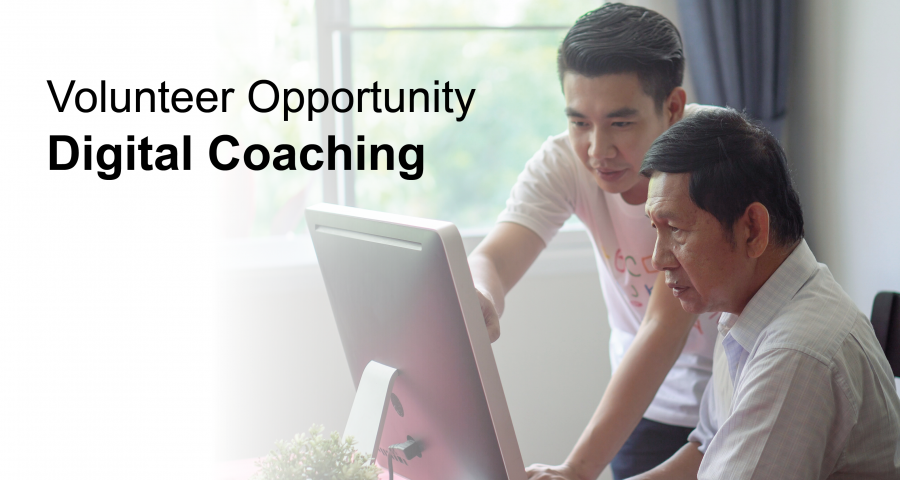 A & O, in partnership with HelpAge Canada and Gluu Technology Society, is excited to offer the following volunteer opportunity:
Digital Coaches will work one-on-one with older adults to help them increase their digital literacy.  Both clients and volunteers will be provided with the same device (tablet computer) for the digital coaching sessions.  These sessions will take place over the phone and can occur in the daytime, evenings, or weekends, depending on the availability of the volunteer and client. 
HelpAge Canada is working with Gluu Technology Society to provide a digital literacy program for A & O clients. Gluu will provide the training, teaching resources, student learning materials, and the support you need to succeed as a Digital Coach.
Duties/Responsibilities
The Digital Coach helps to answer basic digital skills questions in simple terms and provides encouragement to older adults through regular, one-on-one check-ins. 
Time Commitment
5 hours of preliminary training - We will try to offer training based on volunteer availability
Estimated 2 hours (over four 30-minute increments) to support each older adult when they first receive their device
4 regular check ins (15-30min) aligning with each module of online learning per older adult (likely every other week)
Anticipate some additional check ins
In summary – an estimated 5 hours of support per older adult. So if a volunteer would like to support 5 older adults – they should anticipate 30 volunteer hours (5 hours for training and 25 hours of support) with about half of this being in the first month. (Volunteer hours are weighted upfront for training and device receipt)
Number of clients assigned to each volunteer
Due to the limited number of tablet computers available, it is preferred that each volunteer is able to support five older adults.  However, if this is not possible, we can look into ways to safely share the tablets between volunteers. 
 Volunteer application process
Email sparsons@aosupportservices.ca to confirm your interest in the Digital Coaching volunteer position
You will be given a link to the Digital Coach Application form
Fill in the Digital Coach Application form - your application form will be reviewed and you will then be sent a Hello email and a time to connect via phone or Zoom will be arranged. 
There is a brief interview (conversation) to ensure that the volunteer position is a good fit.
Accepted volunteers will then be sent a Welcome email and there is an onboarding process in place with Gluu.
You will be asked to sign an agreement that outlines the privacy policies.
* As part of the application process, you will be asked to provide 3 references and complete a Criminal Record Check with Vulnerable Sector Search.  A & O will reimburse you for the cost of the Criminal Record Check. 
DIGITAL COACHES ARE...
able to use a computer, tablet or smartphone
excited about the positive effects technology can have on someone's life
friendly, empathetic, reliable, flexible, and patient
able to search the web safely
good at explaining technology in simple terms
quick to know when to stop talking and start listening
accommodating of people's interest and motivations for learning digital skills
comfortable with Facebook and other social media
...did we mention patient?
BENEFITS INCLUDE
Training to help you get better at your role
Opportunities to keep learning new things
Being part of a fun and supportive team
Satisfaction from helping others learn essential, life-changing skills
Meeting great people and making new friends
WE GIVE YOU THE TOOLS TO SUCCEED
Gluu provides the resources to help you become a successful Digital Coach. Our training materials include online video classes, downloadable teaching resources, scripted lesson plans, details FAQs, and live training events with the Gluu Team.
NOT A TECH WHIZ? NOT A PROBLEM.
Digital Coaches as not expected to answer complicated tech support questions - leave those to us! Your role is to help answer the basic digital skills questions, and provide encouragement. It you need help, our team is here to provide answers to you and to your students.